INGINKAN DOUBLE PUMP???
ELEKTRIK / BATERI???
BOLEH FREE HAND KETIKA MENGEPAM, ALA-ALA MEDELA FS???

MEMPERKENALKAN NEW IMPROVED BREASTPUMP !!!
EVELOVE LILY BREASTPUMP *TEMPORARY OUT OF STOCK*
RM 499.00
Special Features:


1. Double Pumping: Stimulates higher Prolactin Level. Get more milk in less time!

2. Compact & Lightweight: Motor Less than 500g. Easy to carry around. Size of Motor is 6.7" length, 3" width, 1.7" height.

3. Dual-Phase Expression: Stimulation Phase followed by Expression Phase. Mimics baby's natural sucking rhythm.

4. Silicon Breastshields: For Maximum Comfort while pumping.

5. Various Suction Level (4 Levels): To Cater to mother's comfort during pumping and efficacy of emptying breasts.

6. Interesting feature with a FREQUENCY Mode Button which gives an instant increase of 30% in frequency (rate of suction & release cycle per minute) and suction power.

7. Built-in Anti-Backflow Mechanism in Motor using active-blow piston technology to prevent backflow and maintain hygeine.

Additional external anti-backflow kit provided for mothers who need it.
**Usage of external anti-backflow kit might decrease suction power up to 20% compared to without using anti-backflow kit**

8. LCD Screen Showing Light , Time & Suction Level.

9. Very Minimal Sound: Mothers able to use breastpump discreetly anywhere and without disturbing baby's sleep.

10. Safety Feature: Will automatically off after a certain time to ensure safety.

11. Optional Power Source: Adaptor, External Battery Case and USB Line Provided.

External Battery Case: Can be connected to the breastpump motor outlet. It requires 6 pieces of 1.5 V AA Alkaline Batteries to run the breastpump motor.

USB Line: Enables customers to connect it to a suitable 9V powerbank, or any other electrical outlets that is safe to run the breastpump motor (eg cars with USB outlet).

**BPA-Free**
**CE & ROHS Certified**
**Warranty 1 Year for Motor Only : T&C for Warranty as in Warranty Card**
**This is a hygenic product, NOT REFUNDABLE on any circumstances**

Items Included:

2 Horn Shaped Mouth
2 Three Linking Mouth
2 Rotary Union
2 One way valve
6 Flaps
2 Storage Bottles
2 Base
2 Bottle Caps
2 Silicon Bottle Lid
1 Y-shaped hose
1 Single Hose
1 Host Machine (Motor)
1 Adaptor
1 Instruction Manual
1 Warranty Card

FREE GIFT:
1 PUMPING BUSTIER (standard size)
1 External Battery Case
1 USB Line
EVE LOVE MANUAL BREASTPUMP
RM 119.00
RM 100.00

The Eve Love Manual Breastpump is designed for ultimate comfort and convenience of breastfeeding mothers.

It's Special Features include:

1. Lightweight & Portable

2. Efficient suction to empty breasts yet comfortable

3. Silicon breastshields for mother's upmost comfort while pumping

4. Easy to assemble parts

5. Comfortable-grip handle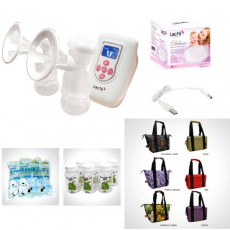 LACTE - DUET ELECTRIC BREASTPUMP PACKAGE
RM 499.00
Package comes with:
1x Lacte Duet Electric Breastpump
1x Lacte Disposable breast pads
1x UBS cable
1x Jingle Jungle Ezara cooler bag
1x Jingle jungle storage bottle 6pk
3x Jingle jungle Mom's Love Reusable ice pack
Lacte Duet Electric Breastpump - THE REAL DUET BREASTPUMP
New double electric pump suitable for home and office use.
A real duo with 2 discrete pumps, serving each expression kit, just like 2 sets of single pump
Left, right or duet operation with individual control. Different suction strength can be set on left and right!
Unique soft breast shield design, reacting to the pumping rhythm which mimic baby's suckling for maximum comfort and stimulation
2 Phase Expression – Stimulation Phase & Expression Phase
Compact and light weight for maximum portability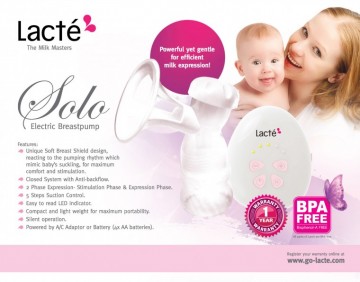 LACTE SOLO ELECTRIC BREASTPUMP
RM 229.00
New single electric pump suitable for home and office use.
Unique soft breast shield design, reacting to the pumping rhythm which mimic baby's suckling for maximum comfort and stimulation
Closed system with anti-backflow
2 Phase Expression – Stimulation Phase & Expression Phase
5 steps suction control
Easy to read LED indicator
Compact and light weight for maximum portability
Silent operation
1 year warranty
MMachine Weight: 220g